Subretinal PolyTip® Cannulas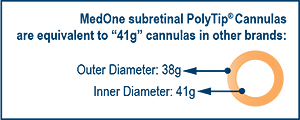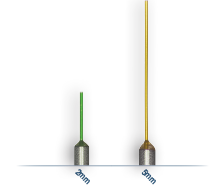 Subretinal PolyTip® Cannulas utilize an extremely thin-walled, semi-flexible tip which allows maximum flow rate in a small diameter cannula. The luer lock hub allows a quick, secure connection to a syringe, extension tube, or infusion line.
We also carry a line of Extendable PolyTip® Cannulas which are designed for easy entry through a valved trocar system.
The 31g tip of our 3218 is excellent for fluid aspiration or endodrainage of a macular hole.
Our 38g microtip is ideal for subretinal injection. The tip is rigid enough to penetrate the retina without prior retinotomy.